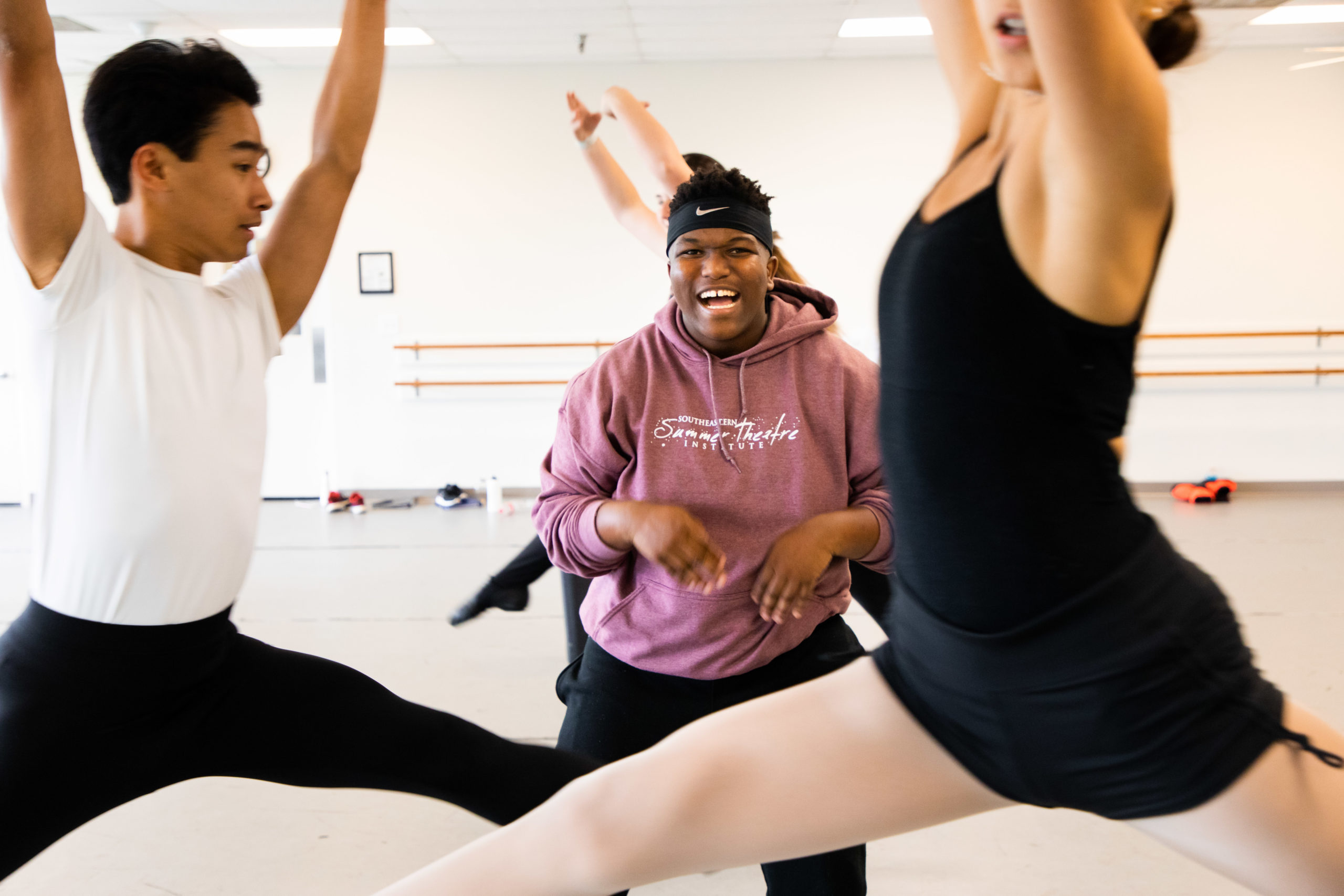 What is the Pre-Professional Program at ATMTC Academy?
The Pre-Professional Program is an elite musical theatre training program for students in Grades 6-12. The curriculum provides students with extensive training in Acting, Music, Ballet, Jazz, Tap, Voice & Speech, and Performance.
What exactly will the Pre-Professional Program do for my child?
The Pre-Professional Program prepares your child for college and/or a professional career in the performing arts. Many Pre-Professional students go on to perform professionally in the DC area.
How is the Pre-Professional program different from my child participating in classes and shows at school or in the community?
The Pre-Professional Program provides advanced training that challenges gifted students who are serious about performing arts to advanced learning preparation for a career on the stage. The program is a small cohort with leveled classes, to maximize growth and development for all of the students as individual and unique performers.
What other things does the tuition include other than training?
​Tuition covers approximately 300 hours for students. These hours include training, master classes, performance opportunities, and a bus trip to New York to see a Broadway show and participate in a Broadway master class. Given the current situation on Broadway, we are currently developing alternative experiences should we not be able to go to New York.
When is it?
Pre-Professional training is a weekly program held on Monday and Wednesday evenings, 5:15-8:15pm, and Saturdays 12-4:45pm. Pre-Professional students receive almost 11 hours of training a week. Students must commit to the entire year. The program runs September 7, 2020 – May 21, 2021. Winter Break: December 21, 2020 – January 31, 2021. We offer optional workshops and classes in January on topics that are not part of the standard Pre-Professional Program curriculum.
Is it going to be online this year?
In 2020, training begins online in the Fall. We continue to stay up to date on local, state, and federal recommendations in order to determine when classes will be shifted to an in-person format. ​This past Spring, all training classes successfully online. We have continued to refine our processes over the summer months, so we are confident students will still receive quality training and have ample opportunities to get to know each and build the sense of community that is a hallmark of the program.
How much does it cost?
This program provides almost 300 hours from September to May and costs $5,400 annually. Families may opt for a payment plan and/or scholarship funding.
Are scholarships available?
Adventure Theatre MTC Academy does not turn anyone away for their inability to pay. Apply for tuition assistance here: https://adventuretheatre-mtc.org/wp-content/uploads/2020/07/Academy-Scholarship_FY20.pdf
My child already has training in _______. Will they be in a class with beginners?
The Pre-Professional program requires an audition to participate, so most students have some prior musical theatre experience in advance. What that experience looks like varies by student. Typically, an accepted student has a combination of formal training in at least one discipline and performance experience. We level each child in each discipline to ensure they receive challenging curriculum. The Pre-Professional Program faculty is highly experienced and committed to supporting each student.
What if they have to miss class for _______?
ATMTC encourages students to prioritize Pre-Professional training, but we understand that students may get cast in productions or have family emergencies. ATMTC Academy will work with your family to resolve any need for absences on an individual basis. If your family cannot commit to a 3x weekly program, we highly recommend our Conservatory Sunday-only option for your family. More information about that program is available here: https://adventuretheatre-mtc.org/academy-classes/conservatory-education/
Do students applying for colleges really need this level of training?
A recent Pre-Professional Alumnus said this about his college auditions, "Most of the places could care less about winning a Helen Hayes or how many professional productions I've done. All that mattered was the 5 minutes I had in the room with them." So it's not about what you've done, it's about what you can do in the moment. That improves significantly with training and repeated audition prep, which is a major focus of this program.
Is there someone I can talk to about this program if I have additional questions before auditioning?
Call 301-251-5766, and we'll be happy to answer any questions you have about the program. Additional information is available here: https://adventuretheatre-mtc.org/academy-classes/pre-professional-program/