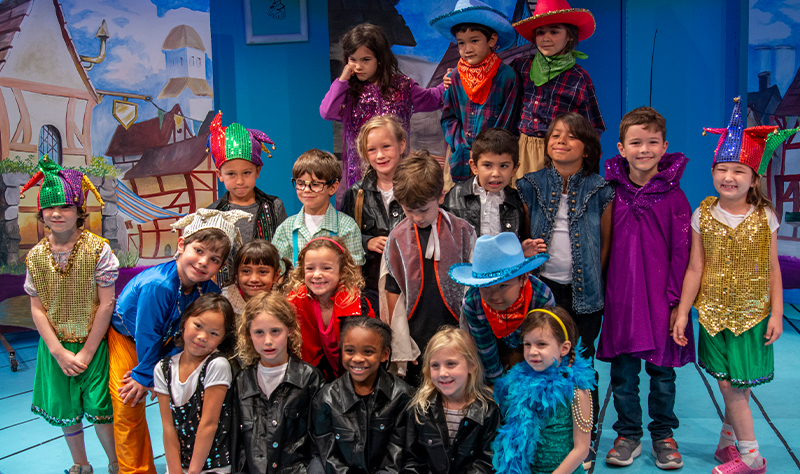 Schedule and Logistics Questions
Q: Where are you located?
Our main camp is based out of Glen Echo Park. We have additional offsite camps in Rockville, Silver Spring, and ​at the Atlas Performing Arts Center in Washington, DC.
Q: What are the hours?
9am-4pm ​Monday through Friday.
Q: Do you have aftercare/beforecare?
Yes, in Glen Echo Park. Please note that Aftercare is run by Glen Echo Park directly and not through ATMTC. See the Summer Musical Theatre Camp page for additional information.
Q: Does my child have to come for both weeks of camp?
Yes. Because this camp builds to a finished product, all children must attend both weeks of Summer Musical Theatre Camp. The tuition price includes both weeks.
Q: Do you have scholarships available?
Yes! The Madeleine Peeler Scholarship is awarded every year to students who express a strong interest in musical theatre. To apply, download our application.
A Typical Day at Summer Musical Theatre Camp
Q: My child does not have experience in theatre. Do they need it?
Adventure Theatre MTC welcomes children of all experience levels for its programming. Summer Musical Theatre Camp is a fantastic program for beginners, as well as more experienced theatre lovers.
Q: What do my kids do all day in Summer Musical Theatre Camp?
Campers start off the day with a warm-up that gets their blood flowing and their bodies, voices, and minds ready for the day. Then they break off into their casts and proceed to do four blocks daily in acting, choreography, music, and rehearsal onstage to prepare for their final performance. In between blocks, children have breaks for snack and lunch as well as other fun camp activities.
Q: Are there other special events during camp?
In our Glen Echo Park location, yes! Our Summer Musical Theatre Camp program has a tradition of several special events.
· Talent Show (participation is optional)
· Ride the historic (and newly restored) Dentzel Carousel
· See a professional production on Adventure Theatre MTC's stage
Q: How much indoor/outdoor time will my kid have? Do you have A/C?
Not all locations receive outdoor time due to the limitations of the spaces. In Glen Echo Park, campers enjoy outdoor lunch, playground time, and one rehearsal block held outdoors daily. Campers spend approximately 2 hours outdoors in Glen Echo Park each day, as long as the weather allows. There is plenty of shade during rehearsal and lunch, but we highly recommend that students bring/wear sunscreen and/or a hat. All locations are temperature controlled.
Please call 301.251.5766 if you have questions about whether your location has outdoor time.
Our Counselors
Q: How many adults are supervising my child?
Two to four adults supervise your child at any given time. This could be any combination of the camp director, stage manager, choreographer, show director, or the music director.
The number of adults varies by location, but there are always three adults per group of children.
Q: Do you hire teenagers?
Adventure Theatre MTC does not hire teenagers as part of our summer staff. All summer camp staff are over the age of 18, and background checked through Adventure Theatre prior to employment. Adventure Theatre MTC does have volunteer opportunities for Counselors In Training for teenagers throughout the summer who will assist each cast with their rehearsals, craft projects, and more.
About the Performance
Q: What kinds of shows will the students be performing?
Our shows are ensemble-based, giving everyone in the cast an opportunity to shine. These shows are age-appropriate. We do take care to choose stories that kids will enjoy, and you will frequently recognize a fairy tale, nursery rhyme, or classic story among our titles!
Q: Can I invite friends and family to see my child perform?
Yes! Please invite whomever you wish to see your child's final performance on the last day of camp, there is no additional ticket cost.