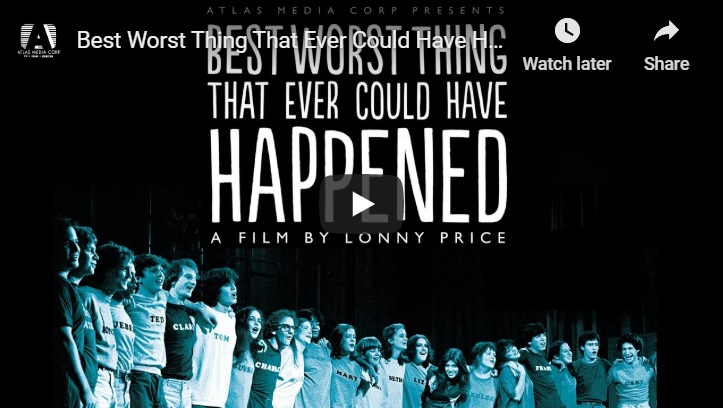 Get your inside-track fix direct from the source. Here are some of our favorites that really illustrate what Broadway is all about.
Note: We ask that if parents have concerns about content, please see the ratings guidelines set forth by the Motion Picture Association of America and use your best judgement of how your children may respond.
Every Little Step
It's A Chorus Line for people who like A Chorus Line. This documentary came out in the height of popularity of American Idol. Although it would be tempting to follow suit (showcasing only the best of the best, the worst of the worst, and the most outrageous), Every Little Step chose a realistic perspective. We get to know the dancers, and we root for their success. Available streaming on Amazon Prime. Rated PG-13 for adult content (i.e. Dance 10 Looks 3).
The Best Worst Thing That Ever Could Have Happened
The thing that makes this documentary unique is that it shows what failure looks like on Broadway and how that can change you. Available on Netflix. Not rated, but as one of our favorites, we think it's good for a PG.
Bathtubs Over Broadway
Our Education Director has been talking about this documentary since she saw it. A comedy writer for David Letterman stumbles upon a secret musical world starring tractors and bathtubs and finds an unexpected connection to his fellow man. We also recommend it to anyone who truly loves something that others may find a little strange. Available on Netflix. Rated PG-13 for language.
ShowBusiness: The Road To Broadway
This wonderful documentary, co-produced by Broadway and film's Alan Cumming, is a look at the creation and business of Broadway. Follow four 2003 Tony-Nominated musicals from inception to casting to opening night to award season: Wicked, Avenue Q, Caroline or Change, and Taboo. Available on Amazon Prime. Please note that Avenue Q contains material that may be inappropriate for younger viewers. Rated PG for language and some sexual references (i.e. The Internet is for ____).
Showing Up
Have you ever been scared and vulnerable? Get in line with the other actors auditioning! The inside look at the audition room (the best and the worst of television, film, and musicals) compiled from more than 50 interviews with notable artists. Artist include: Kristin Chenoweth, BD Wong, a young Jonathan Groff, Richard Griffiths, Zoe Kazan, Nathan Lane, Chris Messina, Sam Rockwell, and Eli Wallach. Available on Amazon Prime and YouTube. Unrated, but we think it's worthy of a PG-13 for language and adult content.
The Boys: The Sherman Brothers Story
Disney fans will delight in learning more about the brothers that made their childhood possible. From Chitty Chitty Bang Bang to Mary Poppins to Winnie the Pooh, the rivalry between these two siblings has made the greatest music of all time. Available on Amazon Prime. Rated PG for mild thematic elements, smoking images, and brief language. 
Fiddler: Miracle of Miracles
The origin story behind one of Broadway's most beloved musicals, Fiddler on The Roof, and its creative roots in early 1960s New York. The film is a reflection on a time that "tradition" was on the wane as gender roles, sexuality, race relations and religion were evolving- and still evolving to this day. A history lesson, a lesson in film, and a Broadway experience in one. Available on Amazon Prime. Rated PG-13.